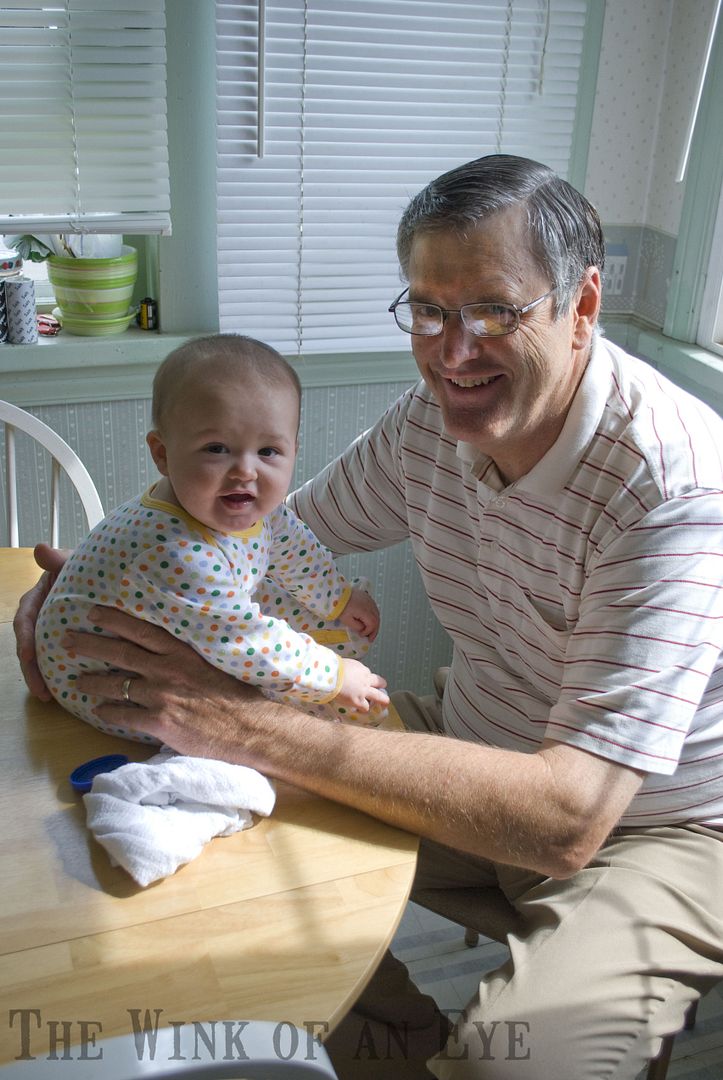 Hanging out with Grandpa
It's never fun coming back to reality after being gone a week and a half being spoiled by family. But, alas, it's a job that must be done. I feel worse for Jon who has to come back to going into work. Since my work never really left my side (or, ehem, boob), it's more just the surroundings and lack of company that change for me, not my actual workload. It was a fabulous, fabulous trip that I can't wait to make again.
And I must say, can I just say express how blessed I am? The family I have is just completely amazing. This trip, more than any so far, has really just emphasized that to me.
Getting loves from Auntie Crystal and sitting with Grandma
Having Jon's family in Michigan — while having dated Jon in MN and moving to CA — has been a tough pill for me to swallow. The serious relationships I had before Jon and getting married always involved men who lived in my hometown, so I spent lots and lots of time with their families from the get-go. I guess that made me assume that the family I married into would be relatively close by. That I would be with them all the time.
I met Jon's family only three or four times before we got married, and after each visit I longed for more. More time to get to know them better. More time to prove to them that I was the "daughter" who deserved their son. More time to feel like we were woven together like family.
Don't get me wrong, I completely have always felt loved and welcomed by them. They welcomed me with open arms and have always told me that they love me. But, I still always just wanted more time. I wanted to know their quirks and what they like to eat. What music they listen to. Why they are the way they are... where Jon came from. And I wanted them to know the same about me. And doing that over a couple weeks a year can be tough.
But, finally, this trip made me feel like we've made it. I don't know if it was because of how long the trip was or what, but when I left Michigan this time around, there wasn't that longing that I needed just a little more time. I mean, obviously I would love to get to spend more time with them throughout the year. I guess I just mean that when we sat around the dinner table with all the siblings and all our kids, I felt like we melted together. And I love that feeling. I love that I consider my sister-in-law more like my actual sister and that I can chat with my mother-in-law for hours. I love that I could go flying with my father-in-law, just the two of us, and feel completely at ease. I love that I get to sit with my sister-in-law and talk about mommy stuff.
I just can't imagine a better family to have married into, and I am so glad that Caleb has them all to love him :-)
Playing with Auntie Crystal and sleeping on a blanket outside
Some of my fave things about our recent visit:
• Laying in the sun on a blanket with C
• Walks through the neighborhood looking at the old houses
• Late night games of cards and laughter
• Flying with my FIL
• Crepes with my sister
• Getting to see our nieces/meet our newest niece
•
Family dinners
• Dates to get coffee and Chinese with the hubby
• Watching C get loved on